Announcements and Important Events
ALL Hawaii Boys Basketball
---
Kamehameha's Togiai is Division I POY
ScoringLive photo illustration
Player of the Year: Christmas Togiai, Kamehameha, G, Sr.
Coach of the Year: Kelly Grant, Maryknoll

FIRST TEAM
Kordel Ng
Kamehameha • Sr
G • 5'9
Christmas Togiai
Kamehameha • Sr
G • 6'2
Jake Holtz
Damien • Sr
G/F • 6'5
Nikolas Robben
Maryknoll • Sr
F • 6'4
Sage Tolentino
Maryknoll • So
C • 7'0

SECOND TEAM
Landyn Jumawan
Leilehua • So
G • 6'1
Geremy Robinson
Moanalua • Jr
G • 6'1
Liko Soares
Maryknoll • Sr
F • 6'2
DiAeris McRaven
Moanalua • Sr
F • 6'5
Oscar Cheng
Kahuku • Sr
C • 6'9

THIRD TEAM
Kamana Lapina
Mid-Pacific • Sr
G • 5'10
Isaiah Richards
Baldwin • Sr
G • 6'2
Izayah Chartrand-Penera
KS-Hawaii • Sr
G • 6'0
Tino Atonio
Damien • Jr
G/F • 6'5
Mario Drummer
Kaiser • Jr
F • 6'2
HONORABLE MENTION
Aiea: Nathaniel Okamoto
Baldwin: Kuikawa Ross, Quintan Akaka, Hudson Yarbrough, Holden Ioanis
Campbell: Kaimana Preza
Damien: Kenneth Mitchell, Jr., Bryce Forbes, Hayden Bayudan
Hilo: Kaukahi Alameda, Rayson Padilla, Lama Pana
Iolani: Andrew Dawson, Devan Fujinaka, Wesley Yamada, Tyler Morita
Kahuku: Shon Reid, Amari Westmoreland-Vendiola, Lokana Enos, Robbie Sauvao
Kailua: Nainoa Peters, Lydell Romero
Kaiser: Kenji Toyama, Cyrus Singelman, Nalu Kanaulu
Kalaheo: Andrew Jones, Bobby Thompson, Ryan Owens, Luke Pardini, Kanoa Smith
Kalani: Brandon Chung
Kamehameha: Preston Ponteras, Paliku Kamaka, EJ Kapihe, Bailey Lee, Xavier Lever
Kapolei: De'Zhaun Stribling
Leilehua: Davon Newman, Logan Lassell, Bernard Tobias Jr., Aviel Palmer, RJ Olivas
Maryknoll: Noah Furtado, Parker Grant
Mid-Pacific: Kala Nakaya, Lucca Kitashima, Elijah Kahue-Parker
Mililani: Ethan Rudometkin, Kanoa Gibson, Jayden Kipapa
Moanalua: Elijah McGruder, Bryant Abalos, Tyler Ybay
Pearl City: Deltha Vienna
Punahou: Yoshi Kobayashi, Ryder Hsiung, Peyton Macapulay, Jordan-Deshawn Hepting, Kanoa Kalahiki
Saint Louis: Isaac Silva, Aiva Arquette, Jayden de Laura, AJ Bianco, Malu Ing, Kalan Ellis
Waiakea: Kiai Apele, Keegan Scanlan, Elijah Blankenship
Coaches who also received consideration: Larry Park, Kamehameha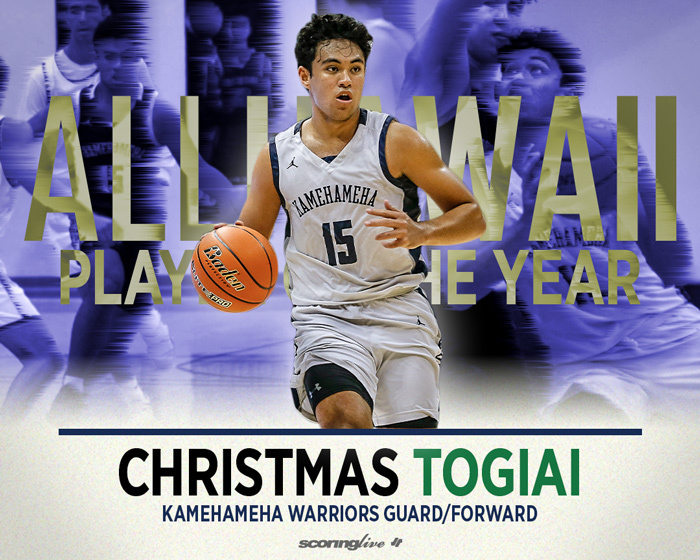 Player of the Year: Christmas Togiai, Kamehameha, G/F, Sr.
Christmas Togiai was a joy to watch on the hardwood floor.
The Kamehameha four-year varsity player led the Warriors to a remarkable undefeated run through Division I play in the Interscholastic League of Honolulu and is the ScoringLive All-Hawaii Boys Basketball Player of the Year.
The Warriors also won every game in 2020 that Togiai suited up in as Kamehameha reached the state championship game for the first time since 2011.
"To me, Christmas Togiai epitomizes the word valuable," said Mid-Pacific coach Robert Shkolv. "He functioned as their offensive fulcrum and defensive ringleader. Their on and off-court captain. Both their physical catalyst and spiritual leader. He's an outstanding young man who plays the game the right way: with passion and class."
Togiai averaged a modest 14 points per game, but his worth to the team isn't defined by a statistic.
"Being a four-year varsity starter helped him to become a fearless leader," said Kahuku coach Brandyn Akana. "He led his team to an undefeated ILH basketball season, which is unheard of, and came one step away from winning a state championship.
"Christmas had everything; a competitive heart, size, basketball IQ, shooting touch, body control, and most importantly, he led by example. Christmas is the type of player that comes around every 5 to 10 years."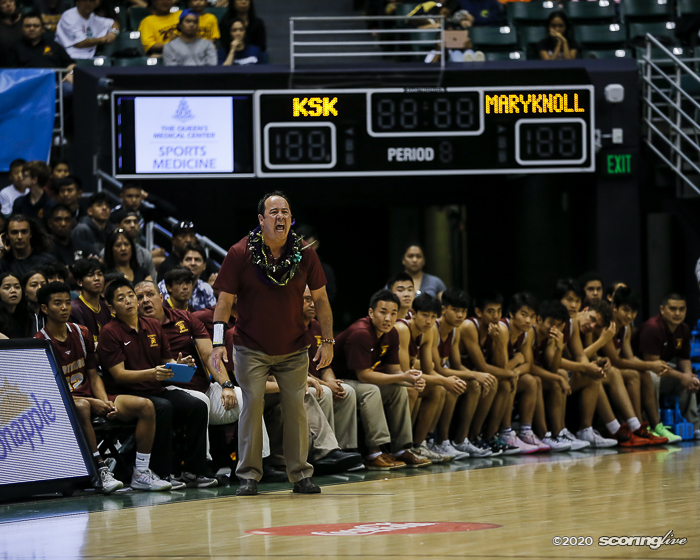 Coach of the Year: Kelly Grant, Maryknoll
Twice is nice.
Kelly Grant is the Coach of the Year for another season in a row after his Spartans repeated as D1 state champions.
It was the first time that a program won consecutive D1 state titles since the classification change in 2007.
https://kamehameha-kapalamawarriors.org