Game Summaries & Headlines
.
Boys Varsity Basketball vs. Damien Memorial School
Game Date

Jan 9, 2020

Score

WARRIORS: 61
DAMIEN MEMORIAL SCHOOL: 56
ILH Boys Basketball
No. 3 Kamehameha holds off No. 2 Damien
Brandon Ching | ScoringLive
January 9, 2020, 10:02pm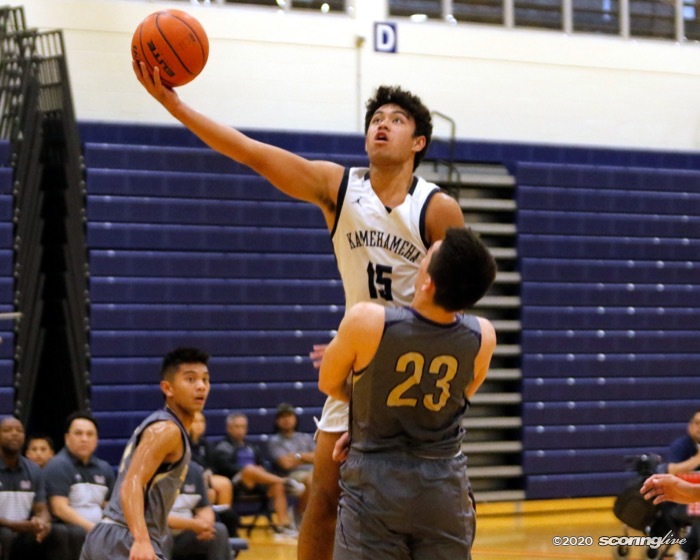 Kamehameha's Christmas Togiai goes up for a layup as Damien's Jake Holtz attempts to draw the charge. Brandon Ching | SL
---
Thu, Jan 9, 2020 @ Kamehameha
---
| | | | | | |
| --- | --- | --- | --- | --- | --- |
| Final | 1 | 2 | 3 | 4 | |
| Damien (9-9, 9-9) | 14 | 9 | 20 | 13 | 56 |
| Kamehameha (15-5, 15-5) | 15 | 19 | 8 | 19 | 61 |
Pts: Kordel Ng (KSK) 19 pts
KAPALAMA HEIGHTS—No. 3 Kamehameha denied their Kalihi rivals late in the fourth quarter to hold on for a 61-56 win over No. 2 Damien in an Interscholastic League of Honolulu Division I battle at Kekuhaupio Gymnasium Thursday.
Two days after taking down top-ranked Maryknoll (3-1), 46-43, the Warriors squeaked out another one on their home floor to improve to 2-0 in league play.
"The ILH is so tough every night. Winning by five or winning by three, it's so good to win," Kamehameha coach Larry Park said.
After getting blown out by Punahou on Tuesday, the Monarchs suffered their second-straight loss to drop to 1-2 in the ILH.
Kordel Ng scored a team-high 19 points, Christmas Togiai added 16, and Paliku Kamaka had 11, including two 3-pointers late in the fourth in the victory.
Bryce Forbes returned after not playing in the first two league games to score a team-high 16 points while Tino Atonio and Jake Holtz added 14 each for the Monarchs.
Damien trailed, 58-56 after Preston Ponteras missed the first of a one-and-one free throw and the Monarchs got the ball with 27.5 seconds remaining in the fourth. Jarvis Natividad had a look from the right corner, but it was no good as Togiai was fouled and sank two foul shots for a 60-56 lead.
Hayden Bayudan inbounded the ball to Natividad in the left corner, but his shot bounced out and Forbes' put back was no good as Togiai grabbed the rebound and split the free throws for the final points.
"Our boys kept battling in the start of the fourth quarter, Damien made their run and they were up one at the end of the third. We talked about being mature and composed and execute what we talked about. They did that and that was a great job," Park said.
Paliku hit his first 3-pointer from the right corner to give the Warriors a 15-14 lead and jumped out on a 7-0 run capped by Ng's drive forcing a full timeout from the Monarchs. Kamehameha attacked the rim and got to the foul line, going 6 for 12.
Damien got their first points of the quarter at the 4:45 mark on Natividad's bucket, but Ng answered twice including a 3-pointer from the right wing to put Kamehameha up 13, 29-16. The Monarchs were able to get the deficit to single digits before Ng made two free throws for a 34-23 lead going into intermission.
"We knew depth was our strength and get that rotation in and put the pressure on they did a good job getting turnovers and knocking down shots. That second quarter was fun to watch," Park said.
Kamehameha appeared to start rolling away with the game with a 6-2 run to open the third, but Damien continued to hang around as Holtz went up strong to convert two baskets going baseline and then cut it to seven. Ng tipped in Ponteras' missed layup in transition, but the Monarchs scored the next eight points to close out the quarter.
Atonio hit a 3-pointer from the top of the arc and Forbes' putback made it a two-point game until Atonio hit his second triple in the same area as the Monarchs roared back to take a 43-42 lead going into the fourth.
Both teams traded leads and tied the game at 48, 50, and 51 until Holtz fouled out with 3:03 left and Bailey Lee's free throw made it, 52-51. Forbes tied the game at 52, but his second free throw was nullified by a lane violation. Kamaka was feeling it as he drained a three from the left corner and another from the wing to give the Warriors a six-point cushion that made the difference in the end.
"He's a great shooter and he's proven it," Park said of Kamaka. "All season long. He hit a bunch for us last year and now coming back this year, he's way more confident."
Kamehameha shot 5 for 11 in the final quarter from the free throw line and finished 12 for 25 overall. Togiai was 3 for 8 in the fourth and shot 50 percent for the game, connecting on seven of his 14 free throw attempts.
"We have to keep battling and we got three days before we play Punahou and we'll get back in the gym tomorrow to simulate the shooting-while-you're-tired free throws. They know they're supposed to make it. Chris struggled to make it, but he made the ones at the very end," Park said.
Damien looks to rebound as the Monarchs go to face Saint Louis (1-1) on Jan. 14 while Kamehameha hosts Punahou (2-0) on the same night.
---
Reach Brandon Ching at brandon@scoringlive.com.
https://kamehameha-kapalamawarriors.org