Game Summaries & Headlines
.
Boys Varsity Football vs. Punahou School
Game Date

Aug 27, 2021

Score

WARRIORS: 28
PUNAHOU SCHOOL: 33
Football
No. 4 Punahou rallies past No. 6 Kamehameha in league opener
Brandon Ching | ScoringLive
August 28, 2021, 6:16am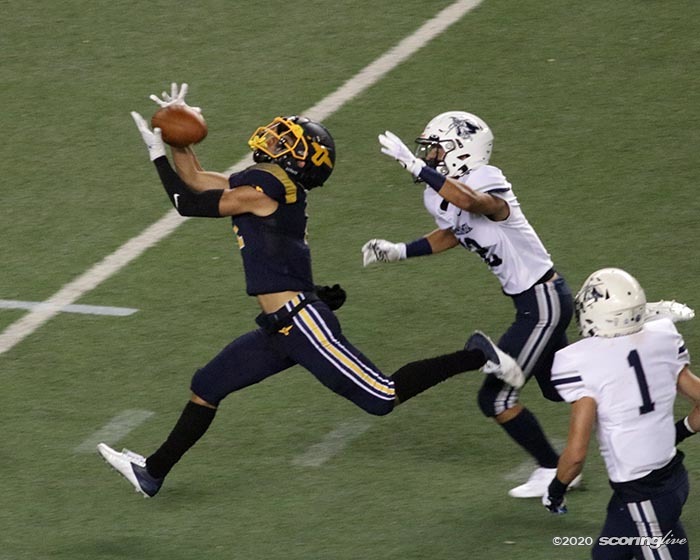 Punahou's Astin Hange hauled in 10 receptions for 211 yards, both career highs, in a win over Kamehameha. Greg Yamamoto | SL
---
Fri, Aug 27, 2021 @ Aloha Stadium [ 7:00 pm ]
---
| | | | | | |
| --- | --- | --- | --- | --- | --- |
| Final | 1 | 2 | 3 | 4 | T |
| KSK(0-1-0) | 7 | 0 | 18 | 3 | 28 |
| PUN(1-0-0) | 7 | 12 | 0 | 14 | 33 |
John-Keawe Sagapolutele 382 yd 3 TD
Kealii Ah Yat 235 yd 1 TD
HALAWA—After months, weeks, and days of uncertainty, high school football is finally back.
Astin Hange came up clutch as No. 4 Punahou rallied past No. 6 Kamehameha-Kapalama, 33-28, in a Interscholastic League of Honolulu Open Division opener for both teams at Aloha Stadium Friday.
John-Keawe Sagapolutele powered the Buffanblu (1-0) with 382 yards on 27-of-42 passing, three touchdowns, and no picks. Two of his three touchdown passes went to Hange, who finished with 10 receptions for 211 yards.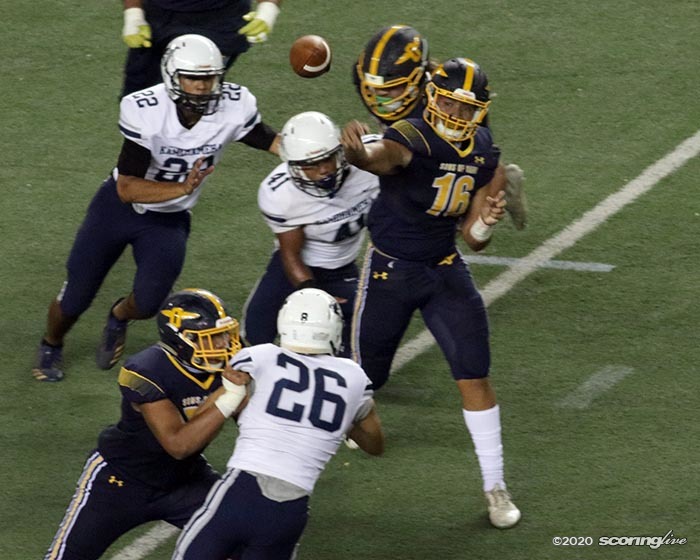 Trailing 28-26 with over four minutes remaining, Sagapolutele drove the offense down the field by converting four first downs through the air. On the seventh play of the drive, he hit Hange from 15 yards out as he broke the plain. The ball popped up and landed in Ean Kamau-Waikiki's hands for insurance. Jordan Kapisi, who went 3 for 4 on PATs, made it, 33-28 with 1:28 left on the clock.
Junior quarterback Kealii Ah Yat, who threw for 235 yards on 14-of-25 passing, opened the Warriors (0-1) drive with two incompletions and hit Levi Maafala for a 1-yard gain. A pass intended for Duke Lorenzo fell incomplete, turning it over on downs as Punahou was able to take a knee to run out the clock.
The Buffanblu offense got off to a rocky start as their opening offensive series resulted in two yards and a punt. The Warriors made Punahou pay after Ah Yat's 2-yard keeper gave Kamehameha an early 7-0 lead.
Punahou answered two plays later as Sagapolutele connected with Hange in stride for an 81-yard score to tie the game at 7.
Kapisi's 32-yard field goal gave the Buffanblu a 10-7 in the second quarter.
After Kamehameha went three-and-out, Punahou capped off a four-play, 53-yard drive with a 23-yard touchdown pass from Sagapolutele to Kamau-Waikiki to make it, 16-7.
Tahiti Wolfe picked off Ah Yat with 11 seconds left in the quarter and Kapisi drilled a 42-yard field goal as time expired to give the Buffanblu a 19-7 lead going into halftime.
The Warriors scored 18 unanswered points in the third quarter.
Kamehameha opened the second half with a 80-yard scoring drive as Ah Yat found Sio Bartley for a 39-yard touchdown. Bartley ran in the two-point conversion as the Warriors trailed, 19-15.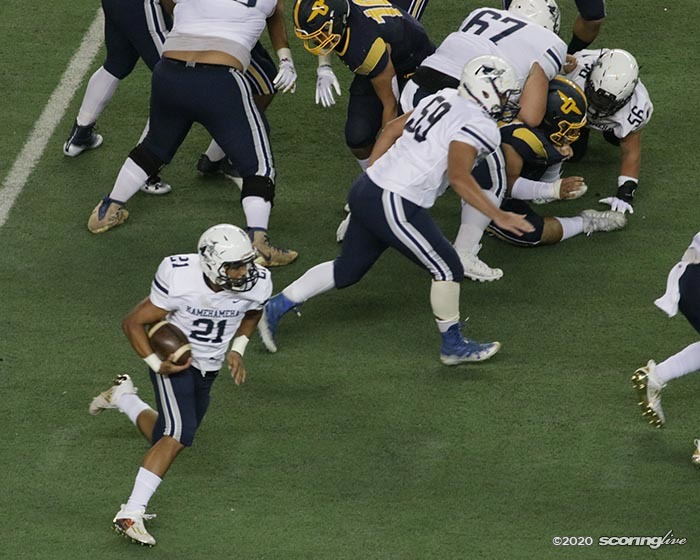 Bartley caught a team-high six catches for 124 yards and rushed for 116 yards on 18 carries.
Oshyn Ferreira booted a 40-yard field goal to bring Kamehameha within one, 19-18 with 4:20 left in the third quarter.
The Kamehameha defense forced a three-and-out and the Warriors went the length of the field and took the lead for the first time since the first quarter on Bartley's 31-yard touchdown run that concluded a seven-play, 86 yard drive.
Punahou faced a fourth-and-2 from the Kamehameha 34 and Sagapolutele found Hange for a 32-yard pass down to the Kamehameha 2 and two plays later, Alaimaikekalmalie Williams punched it in from 1-yard out and Kapisi's PAT reclaimed the lead for the Buffanblu, 26-25.
The Warriors countered with a 10-play, 61 yard drive of their own and Ferreira's 34-yard field goal with 4:16 remaining, put Kamehameha back on top, 28-26, before Punahou mounted their game-winning drive.
The Buffanblu take on top-ranked Saint Louis following the Kamehameha II and Damien game on Sept. 3 at Aloha Stadium. The Warriors have a bye before facing the Crusaders the following week on Sept. 10.
Punahou and Kamehameha last officially played each other on Oct. 25, 2019, with the Buffanblu winning 47-20.
Both teams are scheduled to meet again on Sept. 18 at Punahou's Alexander Field at 3 PM.
Fans were not permitted at the game.
---
Reach Brandon Ching at brandon@scoringlive.com.
https://kamehameha-kapalamawarriors.org